Registration for AEIC's 139th Annual Meeting Is Now Open
October 24-26, 2023 • Savannah, GA JW Marriott - Savannah Plant Riverside District
AEIC's Annual Meeting is the one place where you can join your peers to collaborate, network, and share ideas about how we can lead our industry forward to achieve a modern, more sustainable grid for all.
We are preparing our best agenda yet, featuring:
Eight General Sessions with expert panel discussions on key industry issues
Business Breakfasts and Luncheons with informative content
Special pre-conference sessions for AEIC Board Members and Committee Leaders
AEIC Annual Achievement Awards reception and dinner
Plenty of scheduled time for peer-to-peer networking opportunities
Spouses/guests welcome to attend all social activities
Registration is now open for 2023. We look forward to seeing you all in Savannah!
Please note: AEIC's Annual Meeting is only open to AEIC members and meeting partners. If your company is interested in becoming a member, click here to find out how you can join.
The deadline for attendee registration is Monday, September 25th, 2023. The deadline to book lodging under the AEIC guaranteed rate is Monday, October 2nd, 2023. Reservations made after that date will be based on room type and rate availability.
At the turn of the 20th century, Savannah officials were concerned there wouldn't be enough electricity to power the rapidly growing city. To meet the projected demand, a plan was envisioned to build a power plant along the banks of the Savannah River. Riverside Power Plant began operation on October 31, 1912, and was fully completed by April 1913 and, at the time, was the most efficient power plant in the South.
Riverside was originally built for the Savannah Power Company which sold electricity to the Savannah Electric Company from 1912 to 1921. The companies merged in 1921 into the Savannah Electric and Power Company. In 1988, Savannah Electric merged with Southern Company, becoming a part of one of the largest, most successful utility systems in the United States.
Riverside Power Plant was slowly taken offline beginning in early 2000. The plant was finally decommissioned in June 2005. In 2012, Savannah native and hotel entrepreneur Richard Kessler purchased the former power plant and converted it into the JW Marriott Savannah Plant Riverside District, a contemporary hotel, meeting, and entertainment venue that retains the plant's unique architectural features. Today, the Plant Riverside District stands tall, powering Savannah again with a different kind of energy. AEIC is thrilled to be hosting our 139th Annual Meeting at a location filled with such rich history.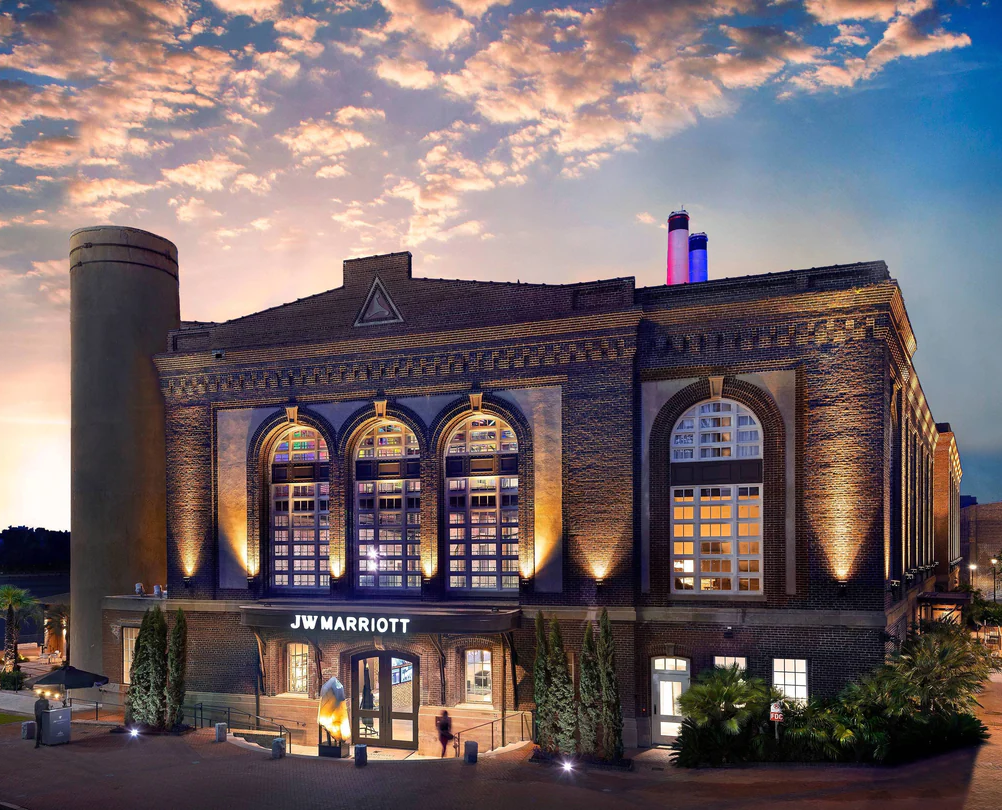 Special Thanks to This Year's Meeting Partners